Self Heating Latte
Twist, Wait, & Enjoy @ 135°F!
A Lean, Mean, Creamy, Self-Heating Machine
If our Creamy Vanilla Latte just isn't cool enough for you, don't worry, it has a really hot twin! The same latte you've come to love from NuRange, but with a twist: Twist, wait 5 minutes, and enjoy a 135°F latte anytime, anywhere. Oh, and it may stay hot, like you, for up to one hour.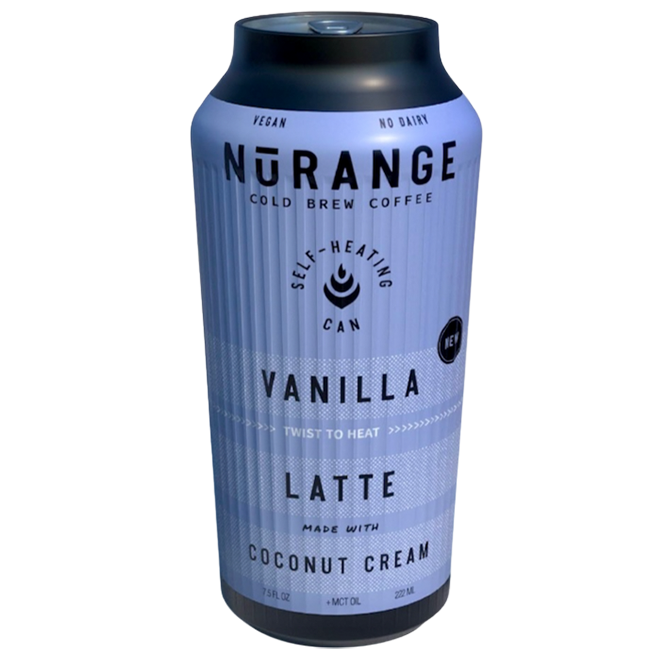 -

-

-

Black Cold Brew
ATTRIBUTES
Bold & Smooth
WHY ME?
NO FRILLS, NO GIMMICKS. JUST COFFEE AND WATER, LIKE YOUR GRANPAPPY DID IT
FLAVOR
BOLD COFFEE
WITH HINTS OF
CARAMEL AND CHOCOLATE

Cold Brew With Benefits
ATTRIBUTES
No Jitters, No Crash
WHY ME?
FUNCTIONAL COFFEE INFUSED WITH L-THEANINE AND MORE TO CALM YOUR NERVES
FLAVOR
SWEETER THAN BLACK,
BLACKER THAN LATTE.
CLEAN FUEL

Creamy Vanilla Latte
ATTRIBUTES
Coconut Cream
WHY ME?
THE TASTE YOU LOVE WITH THE NUTRITION YOU DIDN'T THINK WAS POSSIBLE
FLAVOR
DECADENT VANILLA
LATTE MADE WITH
RICH COCONUT CREAM